Raisecom Iscom HT-803-N Setup – Onu Configurations and a full setup. Follow the guidelines to configure your Raisecom HT-803-N Fiber Router
Related: Nokia G-140W Router
Table of Contents
superadmin password
[email protected]#
Raisecom Router
Raisecom Iscom HT- 803- N is a home security gateway. Raisecom Router is a Fiber ONU that is placed at the customer's premises for the Fiber Internet Connectivity, FTTH.
Raisecom Router is used in an FTTH network which makes Fiber Connectivity really quick and affordable.
Raisecom Iscom HT-803-N Features
Feature small size, attractive appearance, and low weight, thus applicable to home use.
Comply with IEEE 802.11 and China telecom standards.
Support multiple management modes, such as EMS and Web access, and provide abundant alarms, thus able to reduce the time for locating faults and lower maintenance costs.
Feature low price, thus able to lower cost on constructing an FTTH network for a single user and applicable to massive deployment.
Support being pre-configured for different groups of users, thus able to plug and play upon home installation and facilitate service activation, operation, and maintenance.
Pass carriers' internet working test and concentrated purchase test, thus able to internet work with other vendors' OLT.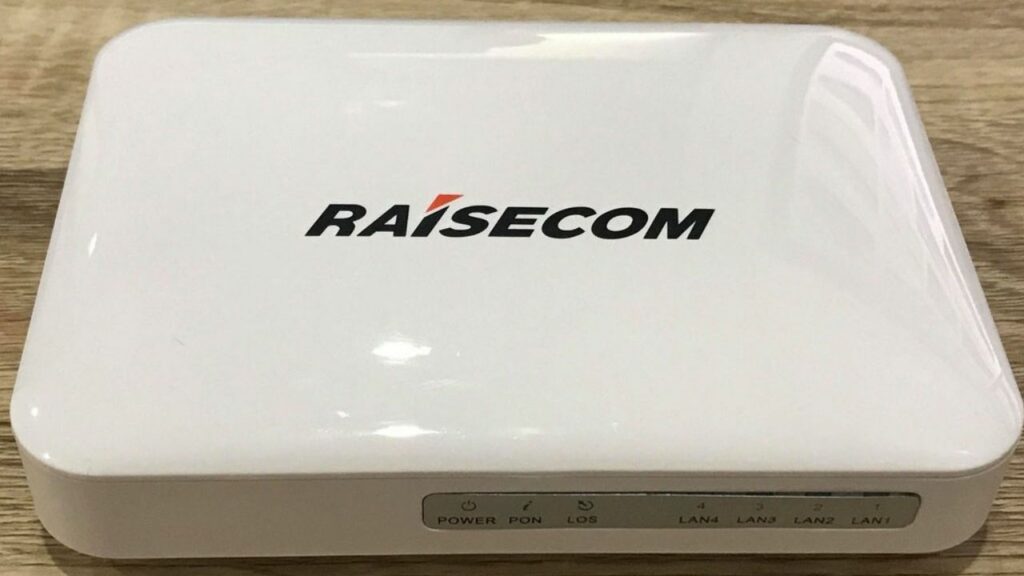 Dimensions
108 mm (Length) × 88 mm (Width) × 31 mm (Height)
Weight 0.2 kg
Maximum power consumption < 3 W
The input of the power adapter is 100–240 VAC (50/60 Hz)
The output of the power adapter is 12 VDC, 0.5 A
Operating temperature 0–50°C
Operating humidity (RH) 10%–93% (non-condensing)
Altitude ≤ 5000 m
 EPON
Support the OLT in physical, logical, and hybrid authentication.
Support distance measurement by the OLT.
Support DBA of the OLT.
Support triple churning encryption.
Support optical link DDM and related alarms.
Support controlling the Tx power of optical modules.
Ethernet interface Support 10/100 Mbit/s auto-negotiation and 1000 Mbit/s full-duplex and flow control.
Support statistics of unicast packets, multicast packets, and broadcast packets on the interface.
Support rate-limiting in the ingress or egress direction of the interface.
Support configuring MTU to 1518–2030, with the MTU being 1518 by default.
Support interface-based storm-control over DLF packets, unknown multicast packets, and broadcast packets.
Support configuring the storm control threshold based on the interface.
 MAC address
Support MAC addressing learning and aging.
Support configuring the aging time of MAC addresses.
Support configuring the MAC address limit.
Support querying and deleting MAC addresses and adding MAC addresses
 Loop detection
Support enabling/disabling loop detection.
Support detecting inner loops, self-loops, and outer loops, and reporting alarms.
  Raisecom Iscom HT-803-N VLAN
Support IEEE 802.1Q.
Support 4094 concurrent VLANs.
Support CTC VLAN modes: transparent transmission, Tag, Trunk, and mapping.
Support IEEE 802.1ad VLAN Stacking.
 QoS/ACL
Support classifying Layer 2 traffic by matching fields, such as the destination MAC address, source MAC address, VLAN ID, CoS, and Ethernet type.
Support classifying Layer 3 traffic by matching fields, such as the destination IPv4 address, source IPv4 address, type of IP protocol, and DSCP.
Support classifying Layer 4 traffic by matching fields, such as the source TCP port, destination TCP port, source UDP port, and destination TCP port.
Support configuring actions for traffic classification based on QoS or ACL.
Support SP or SP+WFQ queue scheduling.
Multicast
Support IGMP/MLD Snooping, the transparent transmission of multicast packets, and controllable multicast packets.
Support configuring multicast VLANs.
Support multicast immediate leave.
 DHCP
PPPoE Support PPPoE Relay.
Maintenance and management
Support OLT management and Web management.
Support interface Up/Down alarms.
Support querying memory utilization and CPU utilization.
Raisecom Router Username & Password
id- useradmin
pw- useradmin
Username – superadmin
password – [email protected]#
Raisecom HT-803-N Configurations
Check Your Internet Speed Test. Check Your Bandwidth.
What is raisecom router superadmin password?
How to log in to raisecom router?
You can login to raisecom router web interface by accessing the router IP address, 192.168.1.1 in your browser.